On the 10th Day of Shopping Handmade – Jennifer Allred
On the 10th Day of Shopping Handmade see what Jennifer Allred is up to over at The Turquoise Tomato. She is on a little holiday right now, but be sure to go over and Favorite her shop. In the meantime stop over to my shop and check the Collaborations Jennifer and I put together with her cool skinny word cuffs with my beads, the perfect Duo for your arm bling! Find them HERE! There are only 5 left!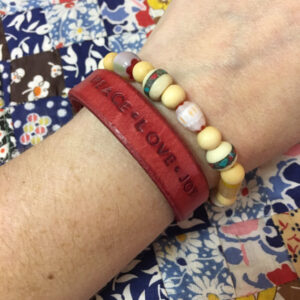 Happy Shopping!
Cheers,
Rachel
*********************************************************************************
Handmade U NEWS:

I'm updating the shop! Hopefully by tomorrow everything will be listed! More coming… All proceeds from my sales go to our Adoption Fun!!

Shop for a wide range of gifts made from vintage quilts and fabrics! Zipper Pouches, Special Heart Word Cuffs, Prize Ribbons, Planner clips and MORE over at the Shop HERE!




The Putting Yourself Out There Companion Course is now OPEN! If you want to watch the August Topic and put all of it into practice for yourself – you will have a fun project and journaling prompts to help! HERE is the link to join!
Want to join the Brave Girls University family?? – Join HERE! to take my Special Word Cuff course along with TONS of others you will receive as a member, join for one month or more!
**all your purchases help build our adoption fund for our future child, thank you so much for your support!
Subscribe to our mailing list