The 12 Days of Shopping Handmade for Christmas!! – Day 1 – Kelli May-Krenz
Hi All!!
It is a busy time of year! Trying to tick all your to-do's off your checklist and still finding time to enjoy the season!
We celebrate the holidays with the 12 days of Christmas which includes little notes or cards each day and a little goody or gift. In that spirit I thought it would be fun to highlight and introduce you to 12 Handmade Shops that I love and admire to spread a little love to them and to you! I know December is a BUSY month for makers getting ready for Holiday markets and stocking their etsy shops, and marketing themselves is tough sometimes to find the time to do it well.
So let's all share a little love to these shops by sharing with our Facebook friends, you never know who is looking for exactly what they are selling!! So please SHARE this post on FB.
****************************************************************************
Day 1 of the 12 Days of Shopping Handmade for Christmas featured artist/maker is Kelli May- Krenz!
I love all the beautiful cards, handmade decorations, jewelry, amazing pieces of art, oh pretty much everything she creates. There are so many talented artists that I am going to feature in this 12 days, but what I love most about Kelli is that her pieces are TREASURES.
We may find a piece of jewelry that speaks to us and looks nice with an outfit, but when we find a Kelli piece we find a true treasure, something that if we don't grab it when we see it, will HAUNT us for years to come. Do you know that kind of special item?!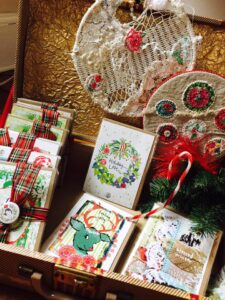 If you are lucky enough to live near Galena, IL she will be a featured Artist in a Window! Go check out her amazing creations this Saturday! Otherwise find her on etsy HERE!
Merry Christmas, Happy Holidays, and Joy to Handmade Shopping!!
xox
Rachel






******************************************************************************
Handmade U NEWS:

Shop for a Special Heart Word Cuff over at the Shop HERE! More upcycled vintage quilt products being added daily! The zipper pouches are starting to show up, and the Vintage Prize Ribbon Corsages are up! Customize your own or choose one listed!




The Putting Yourself Out There Companion Course is now OPEN! If you want to watch the August Topic and put all of it into practice for yourself – you will have a fun project and journaling prompts to help! HERE is the link to join!
Want to join the Brave Girls University family?? – Join HERE! to take my Special Word Cuff course along with TONS of others you will receive as a member, join for one month or more!
**all your purchases help build our adoption fund for our future child, thank you so much for your support!
Subscribe to our mailing list